"If you are determined to learn, no one can stop you"
Semper Fidelis with Learning
Welcome to my Blog
I have been creating effective, educational resources for the classroom my entire career. In 2006, I was a first-year teacher hired to teach a bilingual, first-grade class. Then two weeks into the school year, I was told I was going to be moved to an English, Kindergarten class instead. I was told that my position was going to be given to a teacher with more seniority than me that had her class shut down for only having 5 kids enrolled in it. Needless to say, I was shocked and I was devastated. Saying goodbye to my students was heartbreaking. I spent a lot of time crying while packing up my class, setting up the new class, and getting very little sleep in between. It was a very, lonely time for me.
However, those feelings were quickly replaced with a panic for my lack of quality, standards-based, teaching materials in English for a whole new grade level. Because all of my student-teaching positions were in bilingual classrooms, my file cabinet for my new English classroom was completely empty. I wanted fun, standards-based materials, but I had already spent my ENTIRE budget on starting up that Spanish, first-grade classroom. So I had absolutely no money leftover to invest in my new class for several months to come. This is how my teacherpreneur journey began. I had to learn to be creative, savvy, and efficient. I couldn't buy anything new so I had to make it all myself.
Fast forward to the Fall of 2012. My file cabinet and personal computer are full of helpful, original resources that I authored and I know are successful. That year, I read about a website called Teachers Pay Teachers, where teachers can make money by selling their original, teaching resources online. While I loved the idea of making myself some extra money, I loved the idea of helping new teachers during a vulnerable time in their career even more. This blog is dedicated to that time period in a teacher's life where they need some extra support. They have the intuition that they can be doing more, but cant yet or don't know how, and need a boost from someone with more experience.
I've been teaching English, Kindergarten for 12 years now and I love it! I feel that I have a lot of knowledge to share and I want to do my part in honor of that lonely, first-year teacher I used to be who needed guidance and encouragement from anyone willing to give it. Let the blogging journey begin.
-Miss Campos, 2018"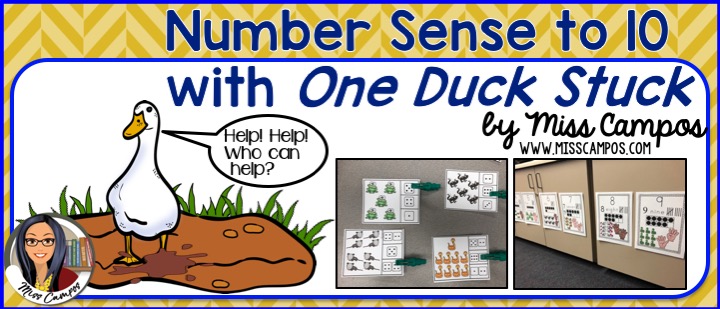 Math and Literacy in Kindergarten pair perfectly well with one another. The best example is when you find a storybook that lends itself to an elaborate week full of wonderful activities. In this blog post, I will show you what I was able to do with this adorable book called, "One Duck Stuck" written by […]
http://misscampos.com/wp-content/uploads/2018/10/One-Duck-Stuck-Kindergarten-Math-Miss-Campos.jpeg
309
720
misscampos
http://misscampos.com/wp-content/uploads/2018/02/Miss-Campos-Avatar-300x300.png
misscampos
2018-10-28 19:40:29
2018-10-28 19:52:51
Kindergarten Math with One Duck Stuck Book